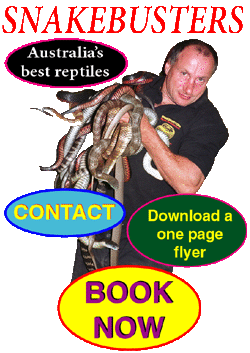 Snake handler, catcher, removal,
Melbourne, Victoria
Over 40 years experience.
We handle snakes and do reptile control in all suburbs, Melbourne, Victoria, Australia, Emergency snake removal, 24 hours, Melbourne, Victoria, Australia.
Snakebusters® Melbourne
PHONE: 0412 777 211
or
(03) 9812-3322.
(Licenced snake removalists)
Details below. Melbourne, Australia (All Suburbs)
(Mobile) 0412 777 211
For the removal of your problem snake/s.
(It is an offence under local Victorian law for an unlicenced person to attempt to capture or kill a snake). Snakebusters are the licenced snake catching experts.
Don't take risks - call "the Snake Man"!
24 hours a day to all Melbourne suburbs and nearby areas!
Reptile party® shows, events, incursions, courses - click here.
(See: Our terms and conditions).